Blog Mixer Linky Party
I LOVE linky parties! And
Yearn to Learn
is hosting a blog mixer...how fun is that?! Super! So...here's how the party rolls:
1. Find a blogger who is a "New Kid on the Blog".
(Someone who has blogged 2 months or less and has less than 200 followers).
2. Post a blogger in your same grade level.
3. Post a blogger in a different grade level.
4. Find a cute blog button and post it.
Okay...let's partay!
1. New Kid on the Blog:
First Grade Glitter and Giggles
...she has some great stuff on her blog and is so cute.
2. Same Grade Level:
Doodle Bugs Teaching
...Kacey is so creative...and oh so sweet.
3. Different Grade Level:
Sneaker Teacher
...she teaches Kindergarten...and was one of the first teacher bloggers I started following. Love her!
4. Button Cuteness:
1st Grade with Miss Snowden
...simple and sweet.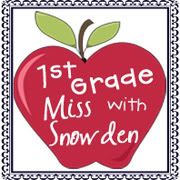 It's your turn to go link up at Yearn to Learn...have fun everyone! Toodles! ♥♥♥
Labels: linky party